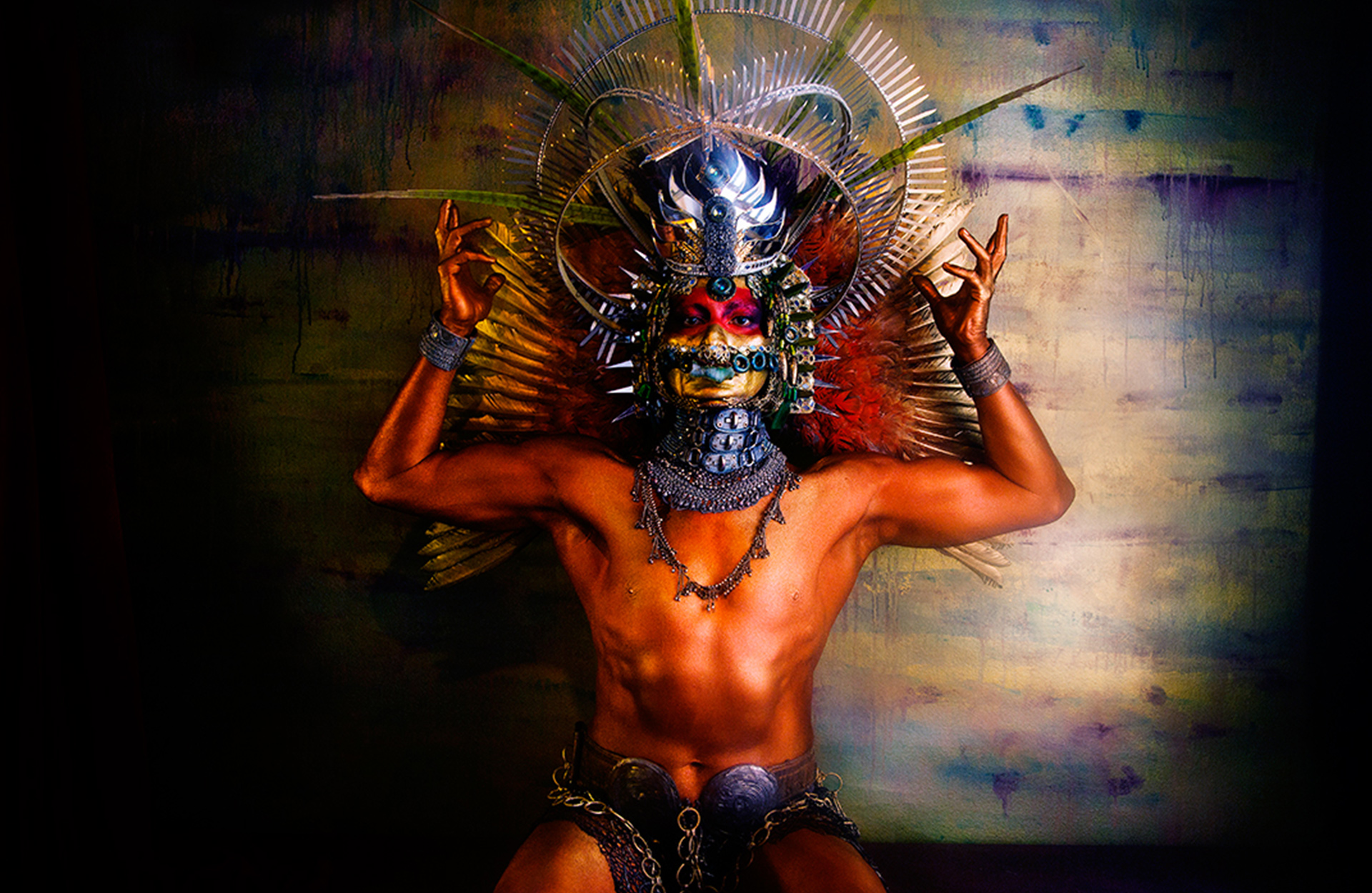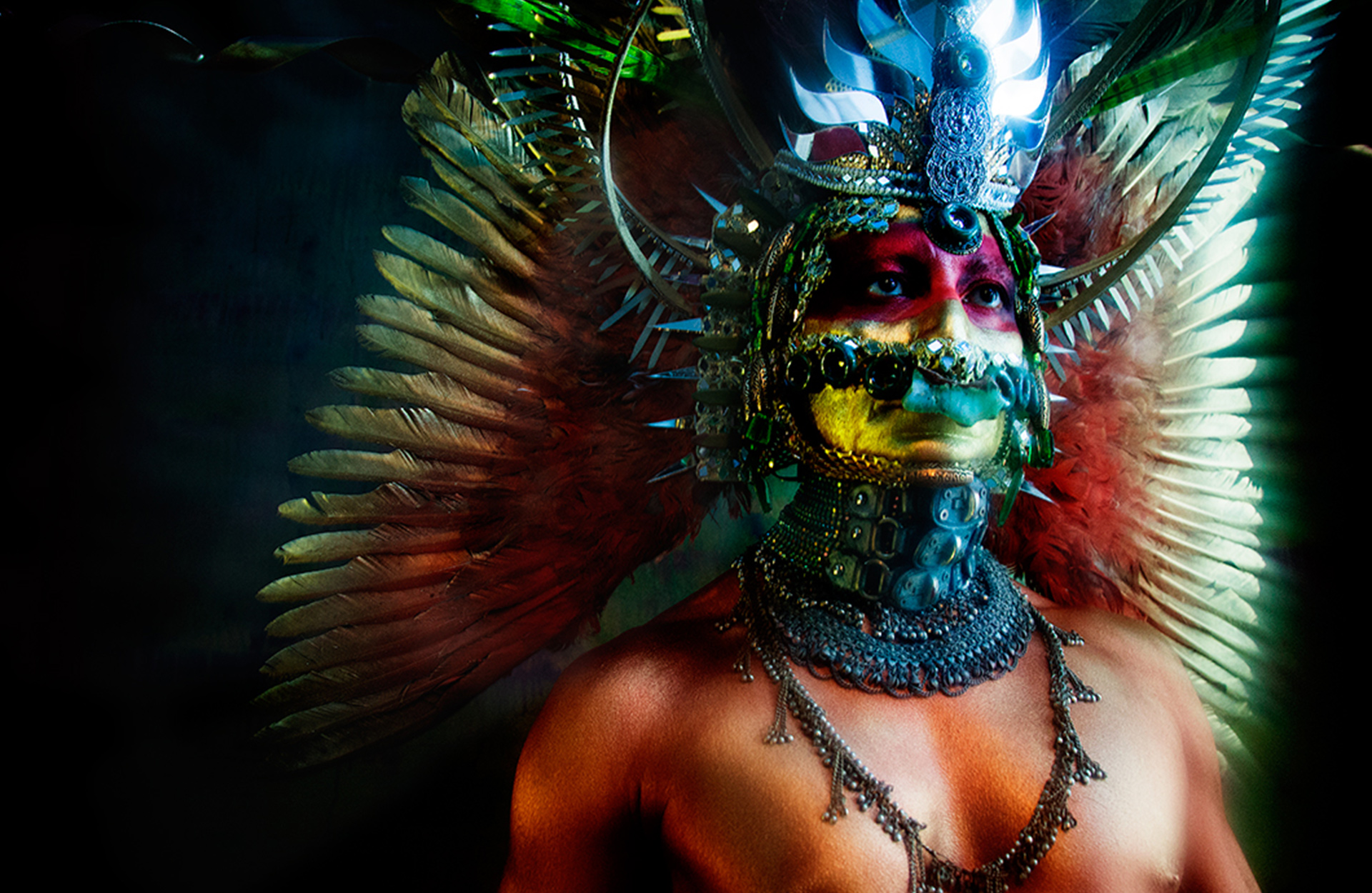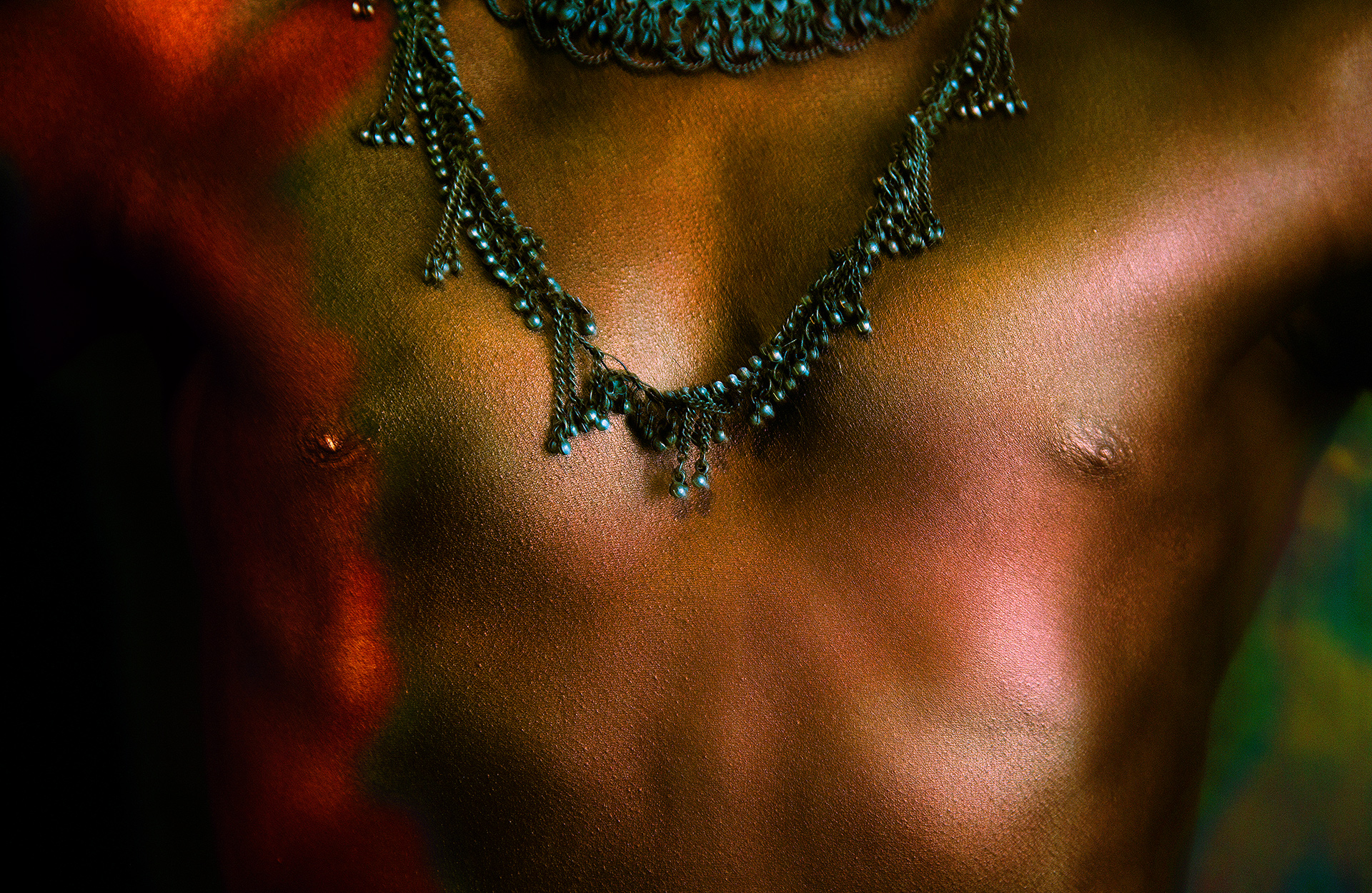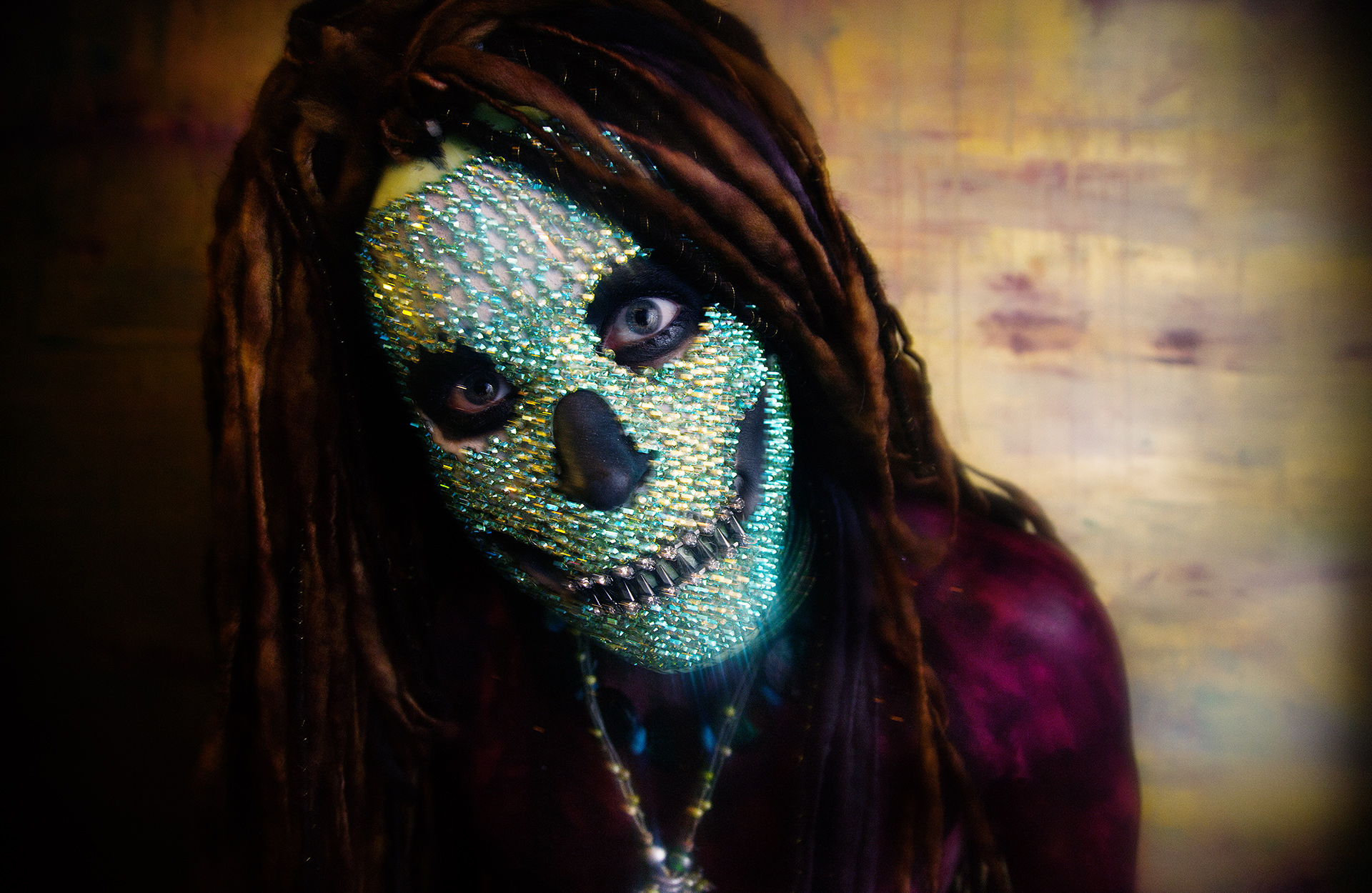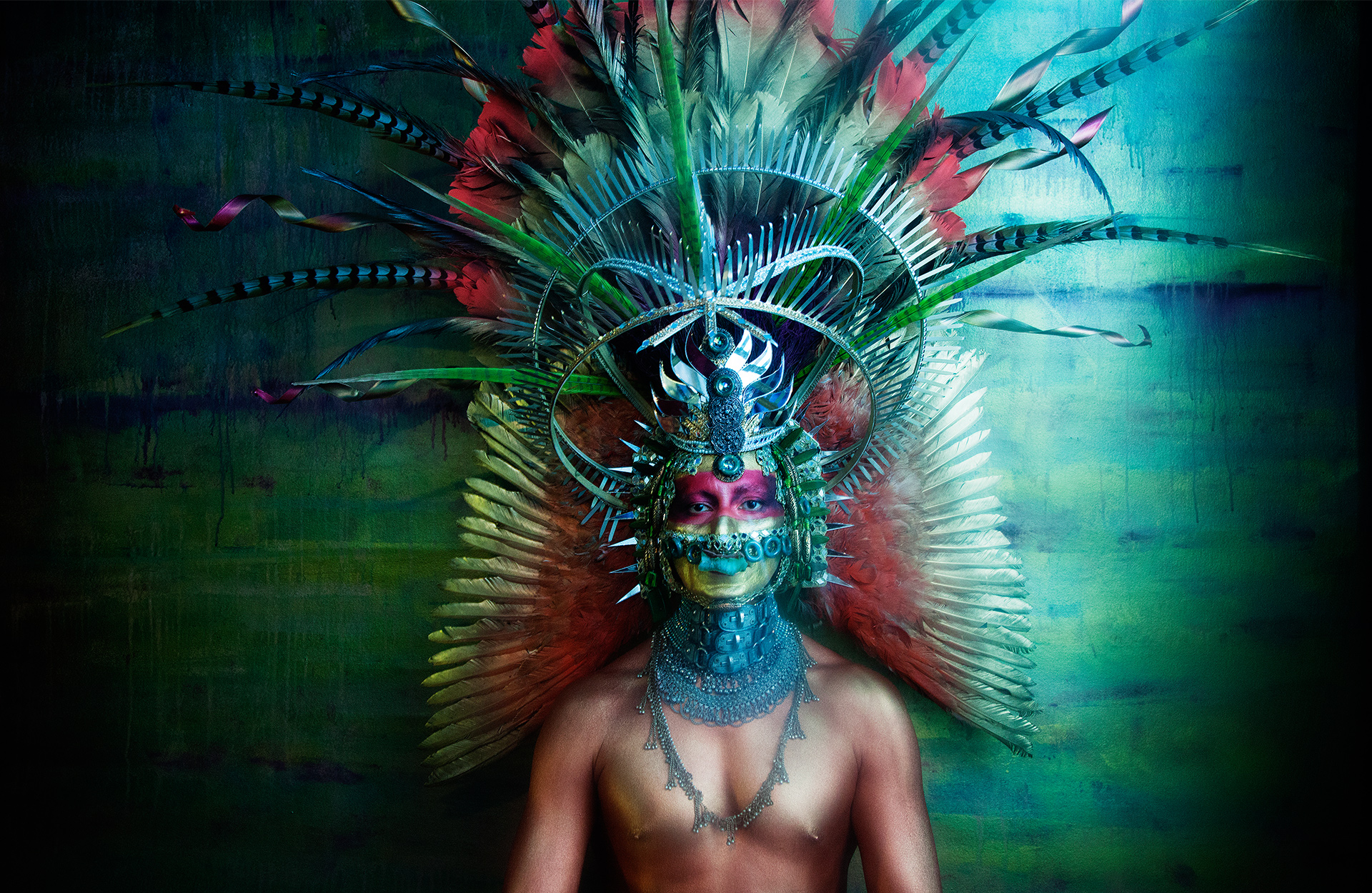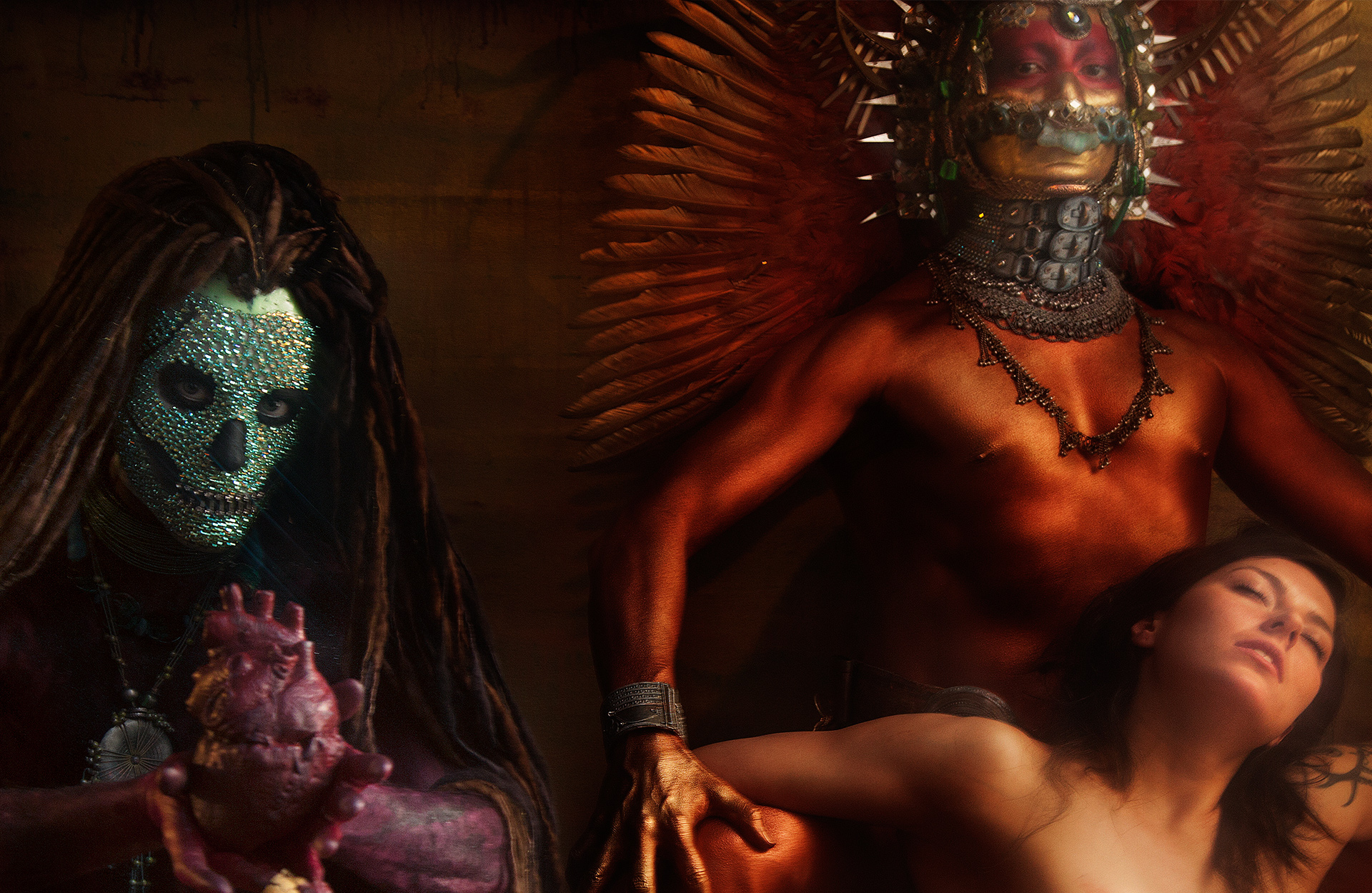 CocoaDios transports audiences into a world where deities of blood and chocolate lord over sacrifice and the dance floor. Audiences are immersed and adorned in chocolate, participate in rituals and consume the "food of the gods" as singers and dancers heat up the stage and aerialists set the heavens on fire.
Told through transported rituals, music, song and dance, this erotic, high-energy show tells the ancient Mesoamerican legend of how chocolate came to earth. With an original score that blends contemporary pop, dance, rock, electronic and regional Mexican music with ceremonial Mayan drumming, and performed by gods and goddesses of every chocolate hue, CocoaDios feeds all the senses.
CocoaDios is performed simultaneously in English and Spanish.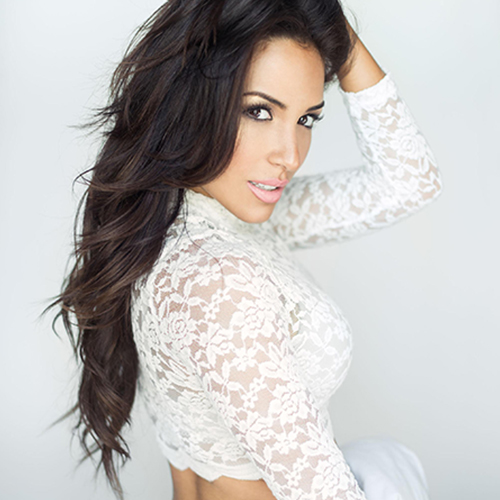 Ana Isabelle
Xochiquetzal
Ana Isabelle stole the hearts of more than 30 million Latinos who voted and made her the winner of Viva el Sueño; a music reality show produced byUnivision in which Ana was crowned as the new Latin music rising star. On her international debut,Billboard magazine called Ana Isabelle "an artist to watch". Ana is currently Finishing her 4th Album to be released in 2016. She made her US TV DEBUT alongside Seven-Time Grammy Award Winner / Actress Gladys Knight, Academy Award Nominee Taraji P. Henson, and Cliff "Method Man" Smith in the holiday dramedy feature "Seasons of Love" for Lifetime. Her duet with the Mexican singer Cristian Castro, Por Amarte Así, became an instant hit in the U.S.A. and P.R. with more than 11 Million views on Youtube. Her Hit Single featuring singers Chino y Nacho,  La Vida Es Bella is one of the most viewed videos in the Latin music market with over 16 Million hits on Youtube. She is honored to have sung with world-renown artists such as the celebrated tenor Plácido Domingo, in concert Mi Alma Latina. In addition, she joined talents with David Bisbal, Knan and has also performed with artists such as José Feliciano, Luis Fonsi, and Gilberto Santa Rosa.

Her Upcoming film projects include Leading roles in: Sol de Media Noche (2017), The Eyes (2016), and Lost Cat Corona (2016).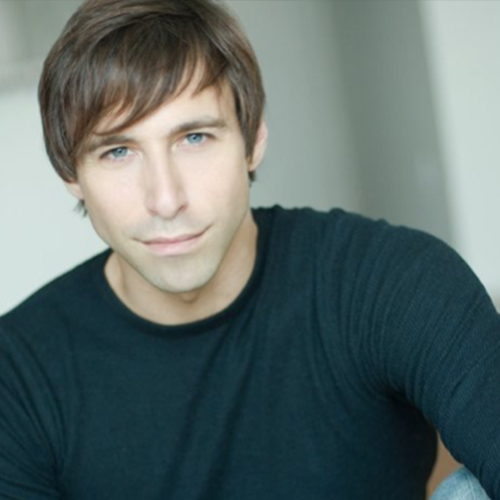 JOEY CALVERI
Quetzalcoatl
Currently staring in TRIP OF LOVE  off-broadway: On Broadway performed in ROCK OF AGES (Stacee Jaxx) WONDERLAND (Knight). Other shows include  Queen's WE WILL ROCK YOU (Las Vegas), Hair (ACT) Joey is also a painter with display at the Hourglass Tavern. He recently released his second album with his band MACHINE ELVES (available on iTunes). Joey wrote an immersive rock show called FOR MADMEN ONLY. He is also one of the co-founder of 4horsemen Prod.
WEBSITE: www.JoeyCalveri.com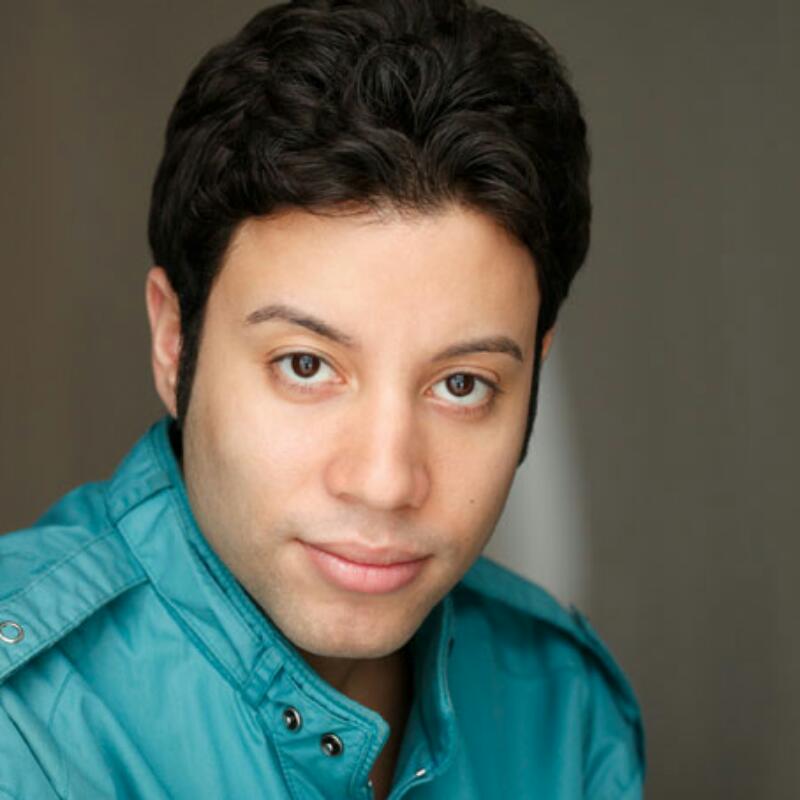 Khalid Rivera
Tetzcatlpoca
Khalid Rivera is an Actor and chart- topping Recording Artist who has done several Film, TV, Theatre and Tours.
His musical and fashion icons are David Bowie and prince. He is very active in the NYC burner and underground scene. Doing CocoaDios at House of Yes is a dream come true. It's his favorite venue.
Khalid had three #1 music videos on LOGO TV and has charted in the top 20 or higher on several music charts worldwide including King Of Spins, North East Dance Chart, Reverbnation, and Masspool. He has two films coming out soon.
Thank you to the creative team for this fab show, my manager and my EDM friends. Get ready!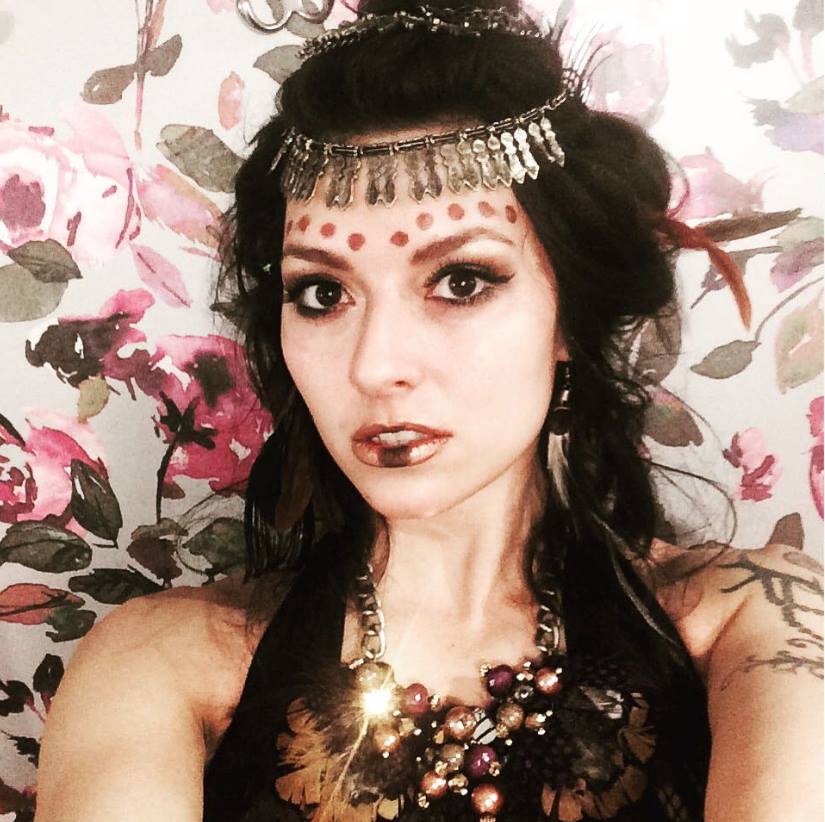 Anya Sapozhnikova
Aerial Priestess
Anya Sapozhnikova  is a co-founder, creative director, rigger, aerialist and resident go-go dancer at the House of Yes. She has fallen in love with aerial work, dance and  theatrics nearly a decade ago. Mostly steering clear of traditional theater, she has performed and produced work in mostly unconventional,  underground, site specific and at times illegal venues and settings. Anya believes that building community is as important as creating spectacle and for this reason she often merges nightlife and theater into one, creating work that people can observe but also participate in.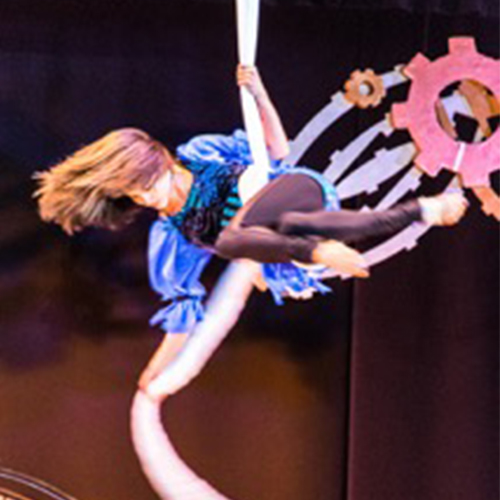 Hannah Silk
Dancer
Hannah is a dancer and aerialist based in Brooklyn. An avid tree climber as a young girl growing up on a farm in Iowa, Hannah began her contemporary dance training under the loving guidance of her parents. They figured dance would be a safer physical activity than scaling the highest maple in Norhtern Iowa. After graduating Summa Cum Laude from Wayne State University in 2007 with her BFA in dance performance, Hannah moved to New York City. Hannah climbed her first silk in 2008, and it was the first step down the path of her next career. After a year of grueling training, Hannah made her debut with ImaginAerial on aerial tissu. Since then, (and many more strenuous years of training later) Hannah has performed across the United States, Canada, the Caribbean, and Asia. She has performed as a soloist on tissu, hammock, and lyra. She has also performed on rope, aerial harness, aerial wheel, and as silks doubles. She joined Dzul Dance in 2015, and has grown tremendously under their coaching and collaboration. Hannah is also a certified Stott Pilates© instructor, focusing primarily on clients seeking injury rehabilitation, pre/post-natal coaching, and athletic conditioning.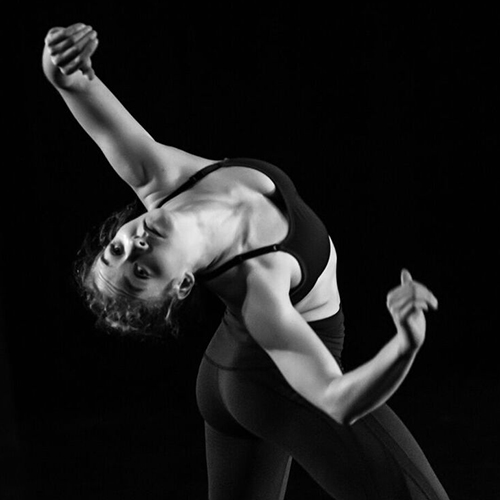 Chloe Goolsby
Dancer
Chloe is a recent transplant from the Pacific Northwest, having began dancing and tumbling at age three. She has gone on to train in ballet, modern, various aerial apparatuses, contortion, and gymnastics.
After graduating from the University of Washington in dance and molecular biology, she went on to work with numerous Seattle choreographers such as K.T Niehoff, Eva Stone, and Xaviera Vandermay. She was also a principal artist in the cirque company The Cabiri,  directed by John Murphy. Since moving to New York, she has been dancing with Kelley Donovan and Dancers and currently trains at the Circus Warehouse in their professional intensive program specializing in rope, lyra, and contortion.
.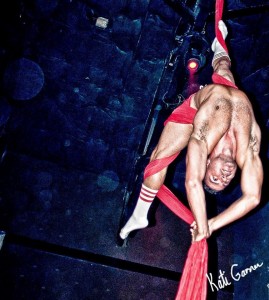 Benn Mendoza
Dancer / Aerialist
Benn Mendoza is an internationally ignored circus artist with 18 years of aerial performing experience that's taken him from Tokyo to Cape Town & everywhere in between. Specializing in aerial fabric & partner acrobatics, he started his career as a gymnast & even made a stop at the 2005 World Championships with the first US Men's Rhythmic Gymnastics team, where they brought home gold. Most recently, Benn's aerial shenanigans could be spotted with Hybrid Movement Company, on the TV shows America's Got Talent & 'SMASH', doing harness work in Nigeria, or doing aerial runway for Hermes in Miami.
.
Chris Neuner
Concept, Music, Lyrics, Book
Chris Neuner is a music and theatrical producer who works across immersive and traditional genres. From performance art works commissioned by the Park Avenue Armory youth ensemble to interactive crowd-scored musical installations, Chris seeks to engage audiences through varied musical mediums. He authored the critically acclaimed Off-Broadway musical comedy Infertility, the Musical that's Hard to Conceive "Lyrical, Poignant, Hilarious – NY Times" and has produced music in commercial, pop, electronic and gospel genres. In addition to writing and producing original works, Chris has enjoyed a career in media education having taught and written college degree programs in Recording and Music Technology, Broadcasting and Multimedia. Currently Chris leads a drumming class in a NYC public middle school and is launching a teen-run radio station for the Queens Library system. Chris teaches music and audio production at SAE New York and plays bass and produces recordings for First Presbyterian Church in Brooklyn NY. He is married to choral director Amy Neuner. They are proud parents of twins, the inspiration for Infertility, the Musical. Chris is honored to be working with such talented people from extremely diverse backgrounds and his family is thrilled to have had recent adventures in Belize and Mexico City in preparing for CocoaDios.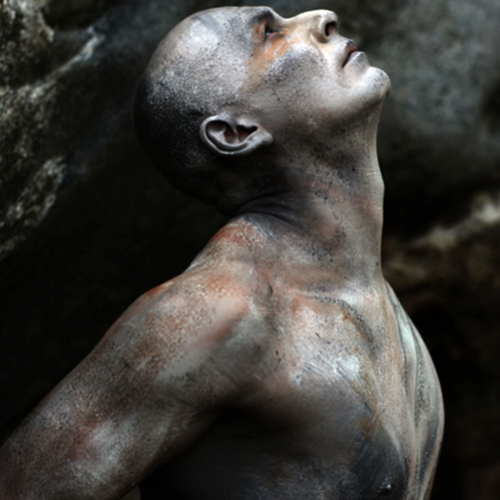 Javier Dzul
Choreography, Musical Staging, Nanahuatl
Javier Dzul grew up in the jungles of southern Mexico performing Maya ritual dance and studying Maya teachings under the direction of his parents until the age of 16. Formal dance training began on full scholarship at the Universidad de Veracruz at which time he also became a principal dancer with Ballet Nacional de Mexico and Ballet Folklorico de Mexico. Javier then received a full scholarship to study at Ballet Nacional de Cuba and another full scholarship at the Martha Graham 
School of Contemporary Dance soon followed. Since his arrival in New York Javier has worked with numerous dance companies. He performed primarily with the Martha Graham Dance Company, Pearl Lang Dance Theater, Alvin Ailey Repertory Ensemble, Battery Dance Company and American Indian Repertory Theater.
Javier began choreographing and performing his own work in 2000 and created Dzul Dance with Robin Taylor  in 2003. He and his diverse company of performers have been presented throughout the world garnering reviews along the way that hail Dzul's "acrobatic wizardry" (Attitude: The Dancer's Magazine) and his ability to turn his dancers of "remarkable elasticity" into "creatures of the air as well as of the earth" (The New York Times). Dzul's dancing has been described as "mythical" by City Arts  "electrifying" by Magazine.Art  and "spellbinding" by The Scotsman (Edinburgh).
In 2009 Javier became the founder and director of Compania de Danza Contemporanea y Aerea del Gobierno del Estado de Campeche; a dance and aerial company funded by Consejo Nacional para la Cultura y las Artes (CONACULTA) of Mexico and the Government of Campeche. That same year the government of the state of Campeche awarded Javier el Premio de San Fransisco, an outstanding lifetime achievement award, for raising international awareness about Maya culture. 
Youth and community outreach are a vital part of Javier's vision as an artist, teacher and creator. He and his company provide people of all ages from diverse backgrounds with unique tools to confront their future with creativity, responsibility, confidence, strength and positivity. He established the Dzul/Mexico Cultural Exchange Initiative in 2008. Every year this program enables pre-professional dancers from Mexico to study and perform with Dzul in NYC for two months.
Javier has been featured by National Public Radio, Univision, American Latino and Bloomberg TV. Javier can also be seen in photographer Acey Harper's Private Acts: the acrobat sublime, published by Rizzoli and in Columbia Picture's Spider-Man 2: London Calling.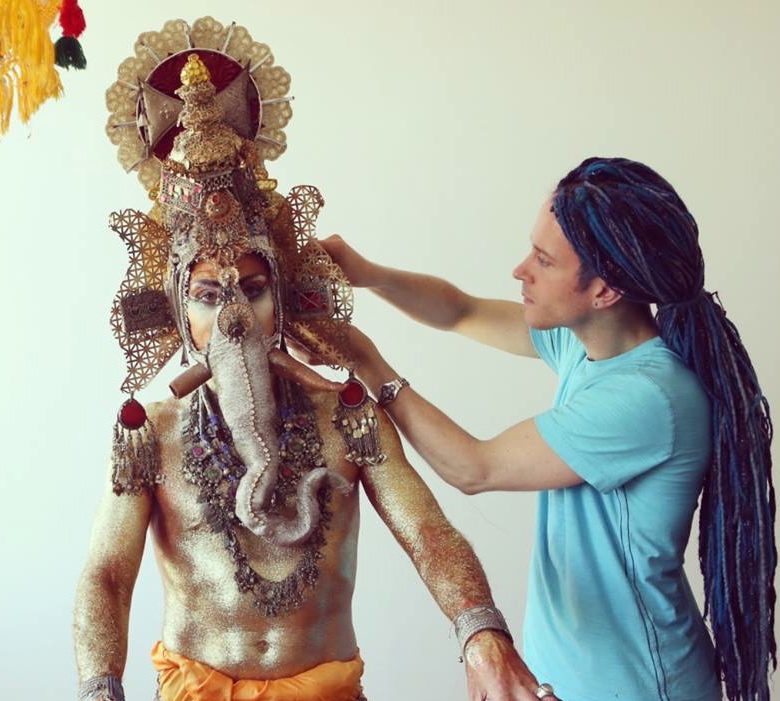 Darrell Thorne
Costumes, Producing Art Director, Priest
Darrell Thorne is a Brooklyn based, multi-disciplinary artist working in the areas of makeup, costume design, and performance art.  Darrell specializes in creating otherworldly, highly detailed characters and elements for stage, screen, and photo shoots.
As a performer Darrell works regularly in nightlife, theatrical, and private events in New York City, nationally, and internationally, and has been featured in videos for Jennifer Hudson, Blondie, Brooke Candy, The Magnetic Fields, and Steven Klein.  Recent live performances include Asia's largest nightclub (Ageha in Tokyo), the Social Star Awards in Singapore, the Mexico City Cabaret Festival, The Life Ball in Vienna, and as the opening act on RuPaul's Drag Race Season 7 Premiere Tour.
As a costume designer, Darrell's work has been featured in editorials for Numero, VMagazine, Vogue Japan, Paper, and Dark Beauty, and he recently designed a custom mask for Madonna, worn in her Living for Love video.  Darrell created the makeup design for Taylor Mac's Walk Across America for Mother Earth, as well as the cover art makeup for HIR.

Darrell was named as one of 2015's OUT 100, and has been a spokesperson for the HIV Stops With Me campaign (hivstopswithme.org) for 10 years.

WEBSITE:  Darrellthorne.com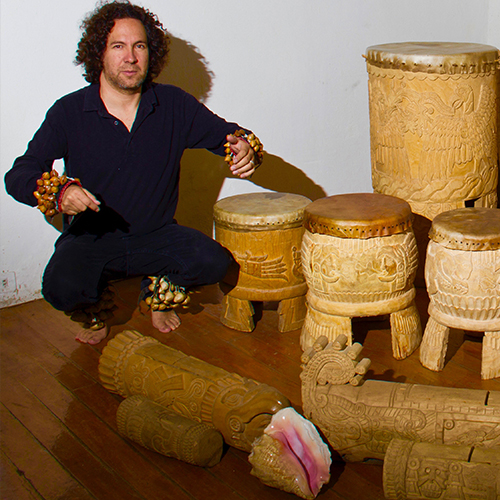 Alfredo Vilella
Prehistoric and Indigenous Music, Drummer, Conductor
For many years, Alfredo Villela has been developing and performing his unique Pre-Columbian sound, creating in the process a powerfully transformative method for opening, healing, and re-balancing people, using natural rhythmic cycles designed for dancing.
Before leaving her physical body to join with the spirit world of the Amazonian jungle, the great Shaman, Jyoti Ma, designated him to continue her work and linage.
Alfredo has the largest Nahuatl drum collection in the world, and is widely acknowledged as one of the foremost masters working today in this native percussion tradition. These drums are called huehuetl, panhuehuetl and teponaztli. Recognized by the ancestors as the voices of the Gods, their sound alone transmits immense healing power.
He has collaborated with Philip Glass, The Meredith Monk Group, Yongchen Lamo, Allison Sniffin, Cynthia Powell, and numerous other great musicians.
Alfredo Villela has performed in many venues, such as such as New York's Central Park (at the largest yoga class ever which made the Guinness Book of Records) and Merkin Concert Hall, The Museum of Anthropology and History in Mexico, The Newark Museum's "Día De Los Muertos"/Day of the Dead, Starseed Center for Yoga and Shamanism, Florida Institute of Technology, as well as many other churches and yoga studios.
With his wife, Ámbar, Alfredo has a duet called Kakaotl which blends their unique Pre-Columbian sound with world music, using Nahuatl native drums, other drums, ocarina or native flutes, chicahuatzin or rain sticks, Indian instruments such as the taus, the tanpura, electronic orchestration and contemporary instruments such as guitars, keyboards and the viola. They recorded a CD called Detachment.
Alfredo has worked in MOTU, Berklee Collage of Music, La Casa Limantour Art Gallery, Philip Glass Studios, and Brown University.
Alfredo Villela graduated from Berklee Collage of Music in Film Scoring and Music Synthesis, he owns Mixcoacalli Studios, a specialized film-scoring studio in the North Shore Area in New England where he lives today with his family.
He has a non-profit organization in Mexico, dedicated to preserve Nahuatl native traditions, native instrumentation and native culture.
WEBSITE: www.kakaotl.com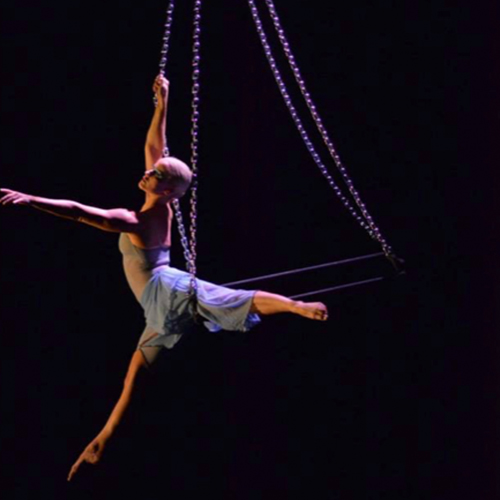 Robin Taylor
Dance and Aerial Rehearsal Director
Robin moved to New York in 1996 and joined Lori Belilove and Company: The Art of Isadora Duncan where she became a soloist company member and joined the faculty at the Isadora Duncan Foundation. She has also competed nationally in Ballroom and Latin Dance with international champion, Ian Folker. Robin has been a principal dancer and aerialist with Dzul Dance since 2003. She has assisted in the restaging of Javier Dzul's choreographies and has led dance and aerial workshops in the United States and abroad. She is the co-director of Dzul's Youth & Community Outreach Program; a program which has brought the beauty and artistry of Dzul to over 9,000 young people in six different countries with little to no access to the performing arts. Robin has also overseen the administrative, financial and structural development of the Company since 2005. She became President of the Dzul Dance Board of Directors in 2011.
In addition to dancing Robin graduated summa cum laude with a Bachelors and Masters Degree in Forensic Psychology from John Jay College of Criminal Justice in 2003 at which time she became involved in longitudinal research projects for the Federal Bureau of Investigations and the Manhattan District Attorney's Office. When not dancing you can find her at The Wild Bird Fund rehabilitating NYC's wild birds (wildbirdfund.org). She and Javier married in 2005.
Casey Shamey
Dramaturge, Book
Casey Shamey, Ph.D. has a BA in Classical Studies from the University of Pittsburgh, and both an MA and PhD in Classical Studies from the University of Missouri with a doctoral minor in Ancient Studies focusing in ancient mythology, ritual, and religion. A veteran of the prestigious American Academy at Rome's Archaeological Program, Casey has excavated at the ongoing dig at Gabii, just outside of Rome. He has taught at the University of Missouri and Wagner College and continues to enjoy teaching the classics to this day at an all-girls school in Westchester, New York. The recipient the Walter Miller Fellowship and the John D. Bies International Fellowship, Casey is an expert in ancient religion and has presented papers at conferences across the country on the topics of ancient mythology, ritual action, and the interaction between gods and humans. Casey is currently writing a book on the Roman conception of their gods from a functional perspective in ritual.
There are many other passions that drive Casey besides just dead gods, dead languages, and dead religions. He is a nationally renowned balloon artist who has made balloon sculptures for celebrities, fashion moguls, and corporations, as well as at the White House. Casey is also an apprentice to a master goldsmith and is working in the techniques of lost wax casting, torch casting, and metal alloying for the creation of jewelry and sculpture.
Cooler than anything mentioned above, though, is his muse and long-suffering wife, Cassidy, and his two amazing daughters, Thera and Linden, who have stood by and supported him no matter what or where his next project has taken him.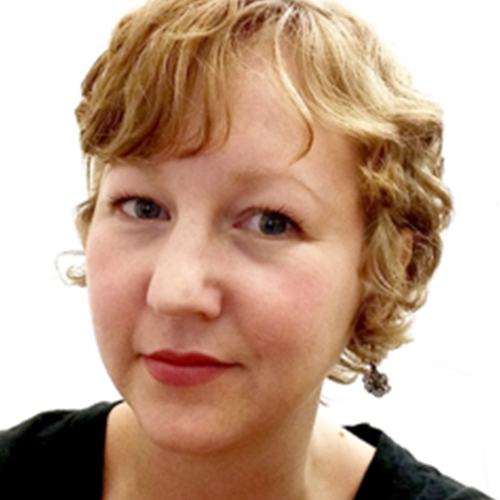 Juliana Crawford
Production Coordinator
Juliana is thankful to be working with the creative team of Cocoadios. Juliana graduated with a BS degree in Musical Theatre and Stage Management from Ball State University in Muncie Indiana.  Her credits include the national tours of, CATS, The Sound of Music, Beauty and the Beast, Evita, My Fair Lady and The King and I.  Juliana has also worked as a PA on films and TV such as, Blue Jasmine, Great Hope Springs, Boardwalk Empire and Made in Jersey.  She also enjoys her work with SLK Ballet in New York City, assisting the Artistic Director, Sara Knight.
Mark Elsenheimer
Co-Producer
Mark Elsenheimer studied Electrical & Computer Engineering, works in business continuity and crisis management at a multi-national 
Fortune 500 corporation, rings in a handbell choir in New Jersey, is an Elder and co-chairs the communication committee at his Church. Having been around music and theater for many years, Mark is excited to take a new role of making a story come alive without sweating over a spotlight or personally climbing the ladders and catwalks.

Mark is so appreciative to his wife (the co- co-producer) for helping bring this multi-talented and diverse Creative Team together. CocoaDios truly feeds all the senses with its mythology, music, and movement. As a chocolate lover himself, Mark wonders "How bad can it be when chocolate is involved?" Hint: come and find out for yourself!